SUPERSONIC & AEROBATIC JET FIGHTER RIDE IN THE MIG 29
This is your chance to go through the sound barrier – experience the incredible sensation of flying at more than Mach 1.0. After taking off, your pilot will gradually ascend to reach the best altitude to push the throttle forward. Be prepared for the acceleration and then feel the speed as the Mig 29 passes Mach 1.0. After braking the sound barrier you will experience a full on aerobatics as your pilot demonstrates the full capacities of the Mig 29, a truly incredible jet fighter. The Mikoyan Mig 29 is a truly amazing fighter plane designed in the 1970s and put in service in 1983. It was designed to rival its American counterparts such as the F15 and F16 with incredible power and agility. Flying the Mig 29 Fulcrum is as close as flying the ultimate machine.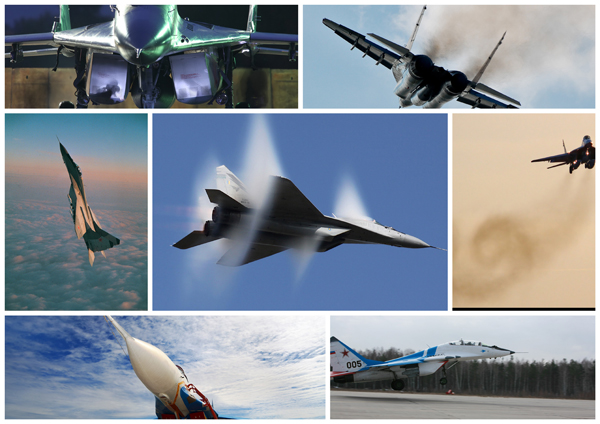 The supersonic and aerobatic jet fighter experience in the Mig 29
9h/9h30: transfer from you hotel to SOKOL Airbase
9h45: arrival at SOKOL, security clearance
9h45/10h30: presentation of SOKOL Airbase – the location of all Mig flying tests
10h30: meeting with your pilot and instructor, briefing on the flight plan, security, instruments, the different phases of the Mig flight.
11h15: medical exam – blood pressure test and checking your overall good health
11h30: Dressing. You change and wear a G suit to help you sustain the Gs felt during the flight. The pilot also shows you how to work your helmet, visor and oxygen mask.
12h30: transfer to the tarmac, where the crew has prepared the Mig 29 for your flight. Inspection tour of the plane with the pilot. Then you get into the back seat, and your instructor shows you the instruments and how to work the radio controls.
12h45: Engines on…
Your flight lasts 40mn, during which you will experience going faster than the speed of sound and many maneuvers done by the test pilots when in flight in the Mig 29, such as loops, barrels, cubain eights, inverted flight… You will experience up to 7 Gs and see for yourself the incredible agility and power of the Mig 29 Fulcrum.
13h20: landing. Briefing with your pilot. It is also a time to immortilize the moment with pictures.
13h30/14h30 – change. You can take a shower to refresh. You receive a certificate testifying that you have done a fighter jet flight on the Mig 29.
14h45: transfert back to your hotel
A debrief is organised after landing, as well as pictures with your pilot and crew. You will also tour the museum of SOKOL military and manufacturing plant, home of the Migs. Then you are driven to your hotel where you can unwind and relax.
We can organise accommodation for you in Nizhniy Novgorod.
Your fighter pilots
Russian fighter pilots are amongst the best in the world. You will fly with pilots that have tremendous experience in flying this extraordinary fighter plane. All are still active at SOKOL manufacturing plant where they test modern Russian fighters. They have been honored by their country as some of them are "Heroes of Russia", one of the highest ranks in Russia and others are "Distinguished Test Pilot of the Russian Federation". They have logged thousands of hours and trained and tested almost all fighter jets designed and born in Russia. You are in the best hands to fly this fighter jet.
Your fighter jet: the Mig 29 Fulcrum
The Mig 29 Fulcrum is one of the best fighter jets built so far. 39 countries have equipped their air force with this unique fighter plane. It flies easily at Mach 2.25 and has a service ceiling of 60,000ft. It has an amazing rate of climb of 65,000ft/mn. Flying the Mig 29 is a truly incredible experience.
General characteristics
Crew: One, can take passenger
Length: 17.37 m (57 ft)
Wingspan: 11.4 m (37 ft 3 in)
Height: 4.73 m (15 ft 6 in)
Wing area: 38 m² (409 ft²)
Empty weight: 11,000 kg (24,250 lb)
Loaded weight: 16,800 kg (37,000 lb)
Max takeoff weight: 21,000 kg (46,300 lb)
Powerplant: 2× Klimov RD-33 afterburning turbofans, 8,300 kgf (81.4 kN, 18,300 lbf) each
Performance
Maximum speed: Mach 2.25 (2,400 km/h, 1,490 mph) At low altitude: 1,500 km/h, 930 mph
Range: 700 km (430 mi)
Ferry range: 2,100 km (1,800 mi) with 1 drop tank
Service ceiling: 18,013 m (59,100 ft)
Rate of climb: initial 330 m/s average 109 m/s 0-6000 m[101] (65,000 ft/min)
Wing loading: 442 kg/m² (90.5 lb/ft²)
Thrust/weight: 1.01
Conditions and restrictions:
You must not have known heart problems
You must not have neurological problems
You will be required to do a medical examination on site. It is advisable that you take a test before booking and travelling to Russia.
You must be cleared by security as you will be entering a military and manufacturing plant. This takes 45 days to process.
Price of the fighter jet experience
See our booking page for additional information on prices.
Book your seat
Either book your Mig 29 fighter jet ride in Russia online via Tematis, or contact us to get our banking details. We advise you to contact us for availability before booking.